COMIKET94 is over! Thousands of items are available!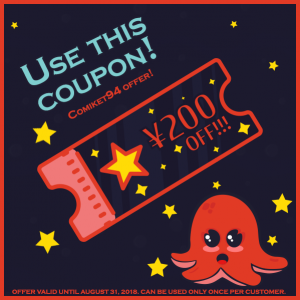 COMIKET94 took place from 10 to 12 August.
Every day more and more new items and books are being released. Many are already available for pre-order!
Comiket (コミケット Komiketto), otherwise known as the Comic Market (コミックマーケット Komikku Māketto), is the world's largest doujinshi fair, held twice a year in Tokyo, Japan. The first Comiket was held on December 21, 1975, with only about 32 participating circles and an estimated 700 attendees. Attendance has since swelled to over a half million people.
Enjoy and check all the new items available!
You can use a 200yen OFF coupon by the end of August ;)